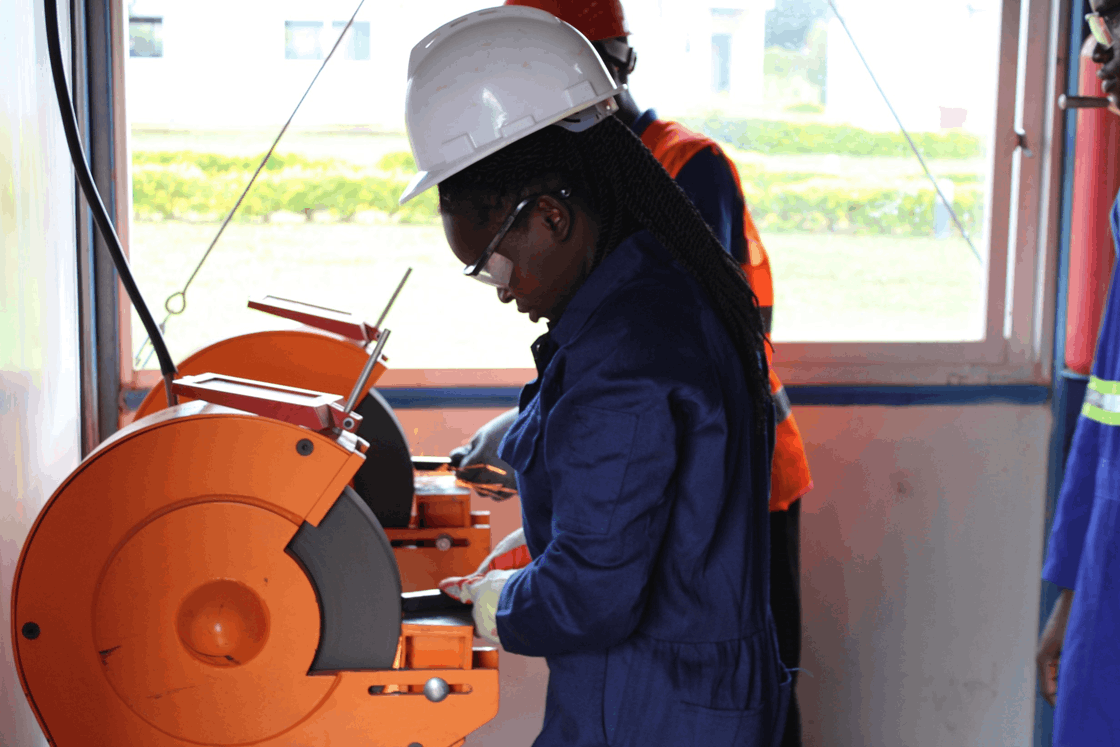 As fresher students across the world start their first day at university this month, Uganda is welcoming a record number of female students who are breaking gender stereotypes by studying oil and gas technical subjects such as welding.
have revealed a 20 per cent jump from two years ago in the number of women now enrolling at the Uganda Petroleum Institute in its practical courses to work in the oil and gas industry, the highest percentage ever witnessed in the country, as young people seek to get the qualifications required to provide technical skills to the country's growing oil and gas sector.
In total some 4,000 Ugandan men and women are presently studying engineering at the country's universities and technical institutes, with a growing number of the places financed directly by the government and the oil companies working in the country to ensure the country's skill set expands to meet the sector's rising demand.
Tony Kato, President of Uganda's Society of Petroleum Engineers, welcomed the increased number of students focusing on engineering and highlighted how the oil and gas boom was helping drive the numbers.
He said: "There is an excitement in Uganda at present around the opportunities that the oil and gas development is bringing, and we can see this in the number of young people wanting to get involved. Under our legislation, oil and gas companies are legally required to employ Ugandans and they should be holding all leadership positions by 2040. Therefore, there are huge opportunities here for the students of today to become the industry leaders of tomorrow, whatever sex they are."
Although the number of Ugandan engineers who were female has historically been lower, women have still risen to the top in the sector in the company. The Uganda National Oil Company is headed by Ms Proscovia Nabbanja, a geologist with several degrees in petroleum sciences.
Uganda is developing oil and gas reserves in the Albertine Graben region, with first oil due to be pumped by 2025. The 1,445-kilometer East Africa Crude Oil Pipeline (EACOP) is being built to transport the natural resource from Uganda through Tanzania for export.
During the next 25 years, it has been calculated that this development will provide a boost of more than $40bn to the Ugandan economy, bringing a potentially transformative impact for Ugandans and the country's economy at large. When production is at its peak, the Uganda government will receive an anticipated $1- 2 billion a year in revenue from the development. This is over and above the benefits that will be realised through participation of Ugandans in oil activities and linking oil and gas to other sectors of the economy.
A National Oil and Gas Talent Register has been established that students seeking employment can sign up to, and the Chinese National Offshore Oil Company recently paid for young Ugandans to qualify in pipeline and refinery construction.
"" Most of the heavy lifting done in engineering, both in school and at work, is with the brain. There are therefore no gender limitations", said Diana Kakwera a Process Engineer with the Petroleum Authority of Uganda
Under the government's National Content policy to upskill its young workforce, bursaries have been provided for courses including petroleum geosciences, petroleum engineering, petroleum economics and petroleum law as well as in oil and gas trades such as welding, fabrication, plumbing and installation.
Specialist training institutes such as the Uganda Petroleum Institute in Kigumba and the Uganda Technical College in Kichwamba are also providing bespoke courses, while other Ugandan universities and colleges have started to offer internationally accredited courses. The technical-focused courses at the Uganda Petroleum Institute where the rise in women has been particularly noteworthy focuses on the oil and gas trades such as welding and electrical work.
Rahma Nantogo, aged 24 and from Kyanja district in Uganda's capital Kampala who graduated this year from Makerere University, spoke of her excitement at joining the sector.
"The workload was one of the main challenges we faced during this study programme but it has been an experience tailored to enable us to handle the challenges of the sector. It was hard work but it gave me the necessary expertise to carry out operations. Now I am looking forward to being part of these efforts to sustainably exploit Uganda's oil and gas."
This year, the number of people employed in the oil and gas sector reached more than 12,000 people, Petroleum Authority of Uganda figures show, with 96 per cent of them Ugandans.
For further information on Uganda's oil development, please contact Gloria Sebikari at gloria.sebikari@pau.go.ug and +256 752 628 754