The Kanywataba Contract Area
The license for the Kanywataba Contract Area is in Ntoroko District and operated by Armour Energy Uganda Limited (AEUL). 
AEUL, as of 2023, has  implemented the  following work programmes:
The Surface Soil Geochemical Survey.
146-line kilometers of  reprocessed existing Two Dimensional (2D) seismic data.
Purchased and interpreted existing 2D seismic data over Turaco and part of Kingfisher discovery for the purpose of a regional geological interpretation and comparison with Kanywataba prospects.
Geology and Geophysics studies.
Amplitude Versus Offset (AVO) study using the Kanywataba well.
Conducted Environmental Impact Assessment (EIA) study for the geochemical surveys.
Acquired and processed 121-line kilometres of new 2D Seismic data.
AEUL is preparing to drill one (1) exploration well in the KCA to de-risk the prospects identified from interpreting the 2D seismic data and geochemical survey data.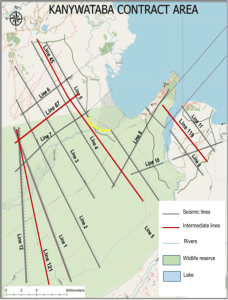 Map of the newly acquired 2D seismic data in the KCA.