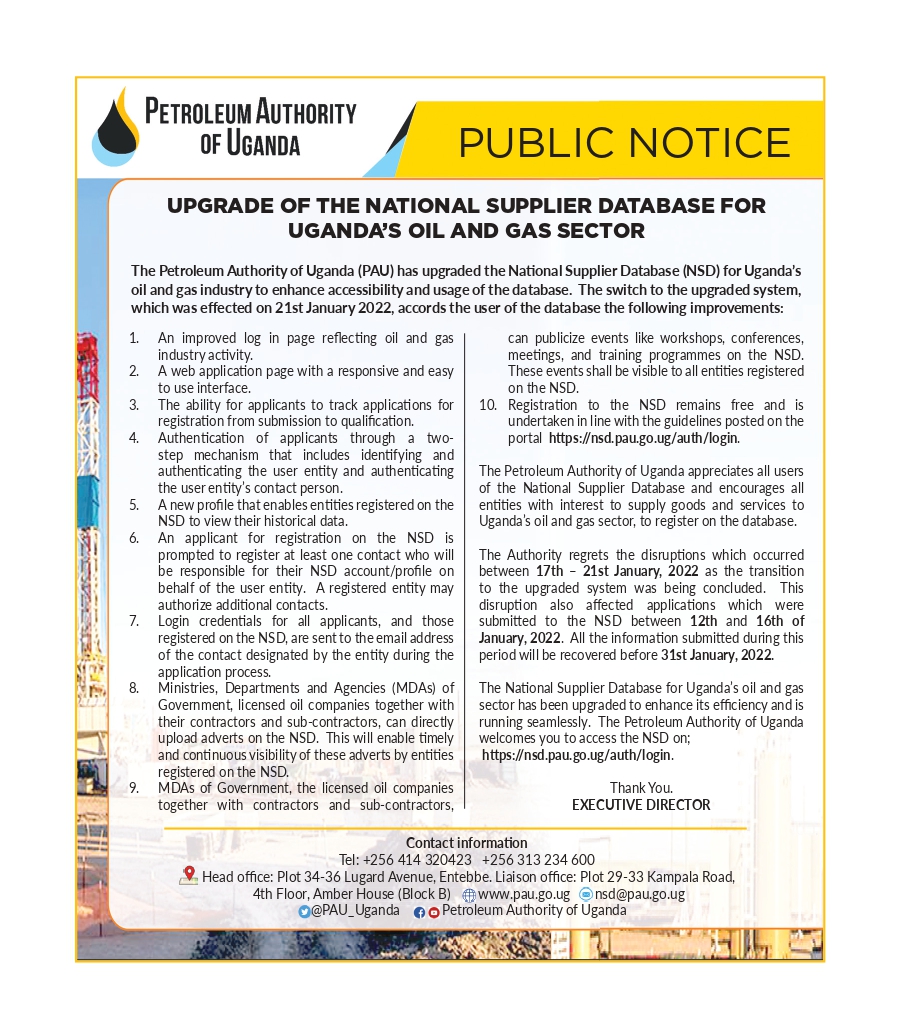 The Petroleum Authority of Uganda has upgraded the National Supplier Database (NSD) to improve its efficiency. The switch to the upgraded system, which was effected on 21stJanuary 2022, accords users several improvements.
"Some of the improvements include the provision to track one's registration status from the submission stage to the point of qualification," notes Mr. Ernest Rubondo, the Executive Director of the PAU.
Important to note are the improved security features provided for by the authentication of applicants through a two-step mechanism that includes identifying the user entity and the user entity's contact person.
In addition, the improved system also provides avenues where events and supplier development workshops planned by the International Licensed Oil Companies and Government Ministries, Departments and Agencies (MDAs) are visible to companies registered on the database.
Notably, the upgrade of the system caused disruptions during the transition to the upgraded system which affected applications submitted on 12th – 16thJanuary 2022.
"The Authority regrets the disruptions which occurred between 17th-21st January 2022 as the transition to the upgraded system was being concluded," Mr. Rubondo adds.
However, the NSD remains a vital tool in enhancing the Authority's role in monitoring national participation enhancing that goods and services from within the country are utilized in Uganda's oil and gas sector.
"The NSD was created in 2017 as one of the tools to monitor national participation," Mr. Rubondo explains.  The NSD captures individuals and companies interested in supplying goods and services for use in Uganda's oil and gas sector. It is also important to note that registration to the database is a pre-requisite for interested parties to participate in the sector.
Since its inception in 2017, the database has  four thousand, one hundred and seventeen (4,177) companies, two thousand, seven hundred and two (2,702) of which are qualified. These numbers are expected to increase as the sector progresses to the development and production stage. Interested parties are therefore encouraged to register using the link
https://nsd.pau.go.ug/auth/login
For more details on the upgrade and features follow the link-
https://pau.go.ug/download/upgrade-of-the-national-supplier-database-for-ugandas-oil-and-gas-sector/
End