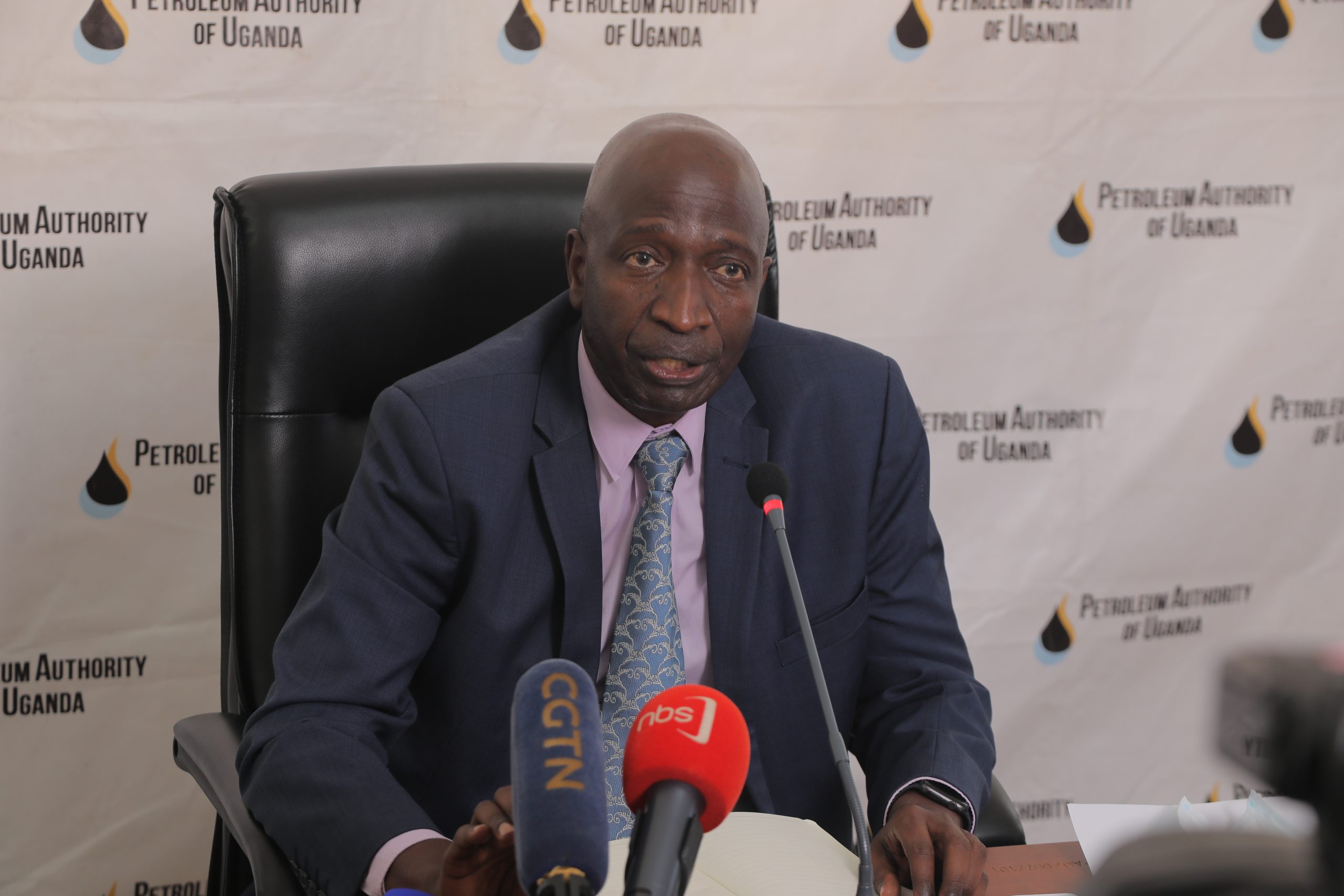 Mr. Ernest Rubondo, the Executive Director (ED) of the Petroleum Authority of Uganda (PAU) has revealed that the oil companies have submitted contracts worth US$ 6 billion for over 40 work packages for the Tilenga, Kingfisher and East African Crude Oil Pipeline (EACOP) Projects to the PAU for approval. This revelation was made during the Authority's Annual Media Briefing at Amber House, Kampala this morning.
Mr. Rubondo further said that following the launch of the oil projects in April 2021, the licensed oil companies have granted conditional letters of awards (CLOAs) for contracts of the Tilenga and Kingfisher projects.  The major contracts awarded include the Tilenga project main Engineering Procurement Supply Construction and Commissioning (EPSCC) contract which was awarded to the consortium of McDermott/Sinopec. McDermott and Sinopec have commenced work and are currently taking forward detailed engineering and other activities in London UK, Beijing China and Gurugram, India.
In addition, ZPEB Uganda Company Limited, the drilling contractor has commenced the detailed design and construction of the drilling rigs to be used in drilling over 400 wells, scheduled to commence in the last quarter of 2022.
"You will note that some of the companies, which have been awarded these Tier one contracts include some of the biggest and well-established engineering companies in the world.  They also have significant capital bases.  This is an important achievement, as these Tier one contractors, with large market capitalisation, are expected to set up base in the country", said Mr. Rubondo.
Mr. Rubondo also revealed that a contract for civil works and construction of well pads for the Kingfisher project together with in field access roads was awarded to Excel Construction Limited, a Ugandan company.  Additional contracts for Kingfisher project, including drilling and well services are due to be awarded during 2022.
On the progress of works for the Tilenga Project, preparation of the 700 acres of Industrial area was at 35% completion at the end of 2021 and expected to be concluded by mid-2022.   Mota Engil Uganda, the contractor undertaking the works, has sub-contracted various Uganda companies included Gauff Consultants, Prand Engineering, Pearl Engineering Civtec, Fabrication Systems among others to undertake some of these preparatory works.
"Investments in the oil and gas sector in the country were US$ 230 million in 2019, US$ 180 million in 2020 then increased to about US$ 500 million in 2021.  These investments are expected to increase to about US $ 3 billion in 2022", said Mr. Rubondo.
The PAU estimates that 40% of the USD15-20 billion to be invested during the development phase will be retained through national content. Other Ugandan Companies that are undertaking works in the sector include MSL, GCC Services, Teclab, ICS/New Plan. Companies from within the host districts and communities like Kato Contractors, Living Earth Uganda, Kitara Development Initiative and Kitara CSO network have been contracted to undertake some of the construction and social resettlement activities.
Mr. Rubondo also said planning for production by the Kingfisher and Tilenga Projects was in advanced stages. These plans include production of over 1 billion barrels of crude oil from the Tilenga and Kingfisher projects, out of which, the Tilenga project is expected to produce an estimated 874 million barrels with a peak production of 190,000 barrels of per day.
"This production will be delivered by seven (07) oil fields at the beginning of oil production (first oil) and the other three oil fields are planned to come on stream five (05) years after first oil.  These fields which will come on stream later will contribute to maintaining peak production over a longer period and enable gentle reduction in the production of oil", said Mr. Rubondo.
On climate change and use of renewable energy, Mr. Rubondo said that oil and gas is still expected to be very valuable and viable for at least the next 40 years.
This he said this is because of the prevailing high demand for oil and gas, as evidenced by the growing global energy demand, especially by the developing countries, and the resulting high crude oil prices.
"There are some oil and gas products which cannot easily be replaced by renewable energy for example vehicle tyres, car seats, polyester for clothing and bitumen for road construction, among others, added Mr. Rubondo.
He further stressed that, "Uganda's oil and gas sector is being taken forward in a manner that reduces the negative impact on the environment. For example, the gas from the oil fields will not be flared, neither will it be used only for electricity generation but for production of cleaner Liquified Petroleum Gas (LPG). There are also plans to use solar energy in the oil and gas activities like heating for aspects of the EACOP."
Countries invest between US$ 2 to 6 billion in construction of facilities to host sports tournaments such as the World Cup and the Olympics.  In comparison, the expected investment in Uganda's oil project in the next 3 to 4 years is about US$ 15 billion, with an expected investment of US$ 3 billion during 2022. "With this momentum, 2022 is going to see a beehive of activity for the oil and gas sector, the Ugandan economy, and the region at large. The year 2022 is going to commence the period of three years of intense infrastructure development in preparation for first oil in 2025. Ugandans need to get excited and prepare for what is coming ahead, and the transformation it is already bringing", Mr. Rubondo urged.
Other major milestones in 2020 and 2021
Conclusion of the agreements required to take forward oil projects in the country including the East African Crude Oil Pipeline Project (EACOP), in September 2020.
Launching of Uganda's oil and gas projects in April 2021. This is one of the few projects in the global industry to be sanctioned during this period, with another being the Mozambique Liquefied Natural Gas (LNG) Project which was launched in November 2019.
Parliament of Uganda passed the critical pieces of legislation required to take forward development of the country's oil and gas sector. These are the EACOP (Special Provisions) Bill 2021, the Income Tax Amendment Bill, and the Public Finance Management Act Amendment Bill 2021 which were passed during November and December 2021.
The National Environment Management Authority (NEMA) awarded the Environment and Social Impact Assessment (ESIA) Certificates for the Kingfisher and EACOP projects in April 2019, March 2020 and December 2020 respectively. This followed award of the ESIA for the Tilenga project in April 2019.
Investments in the oil and gas sector in the country were US$ 230 million in 2019, US$ 180 million in 2020 then increased just over to US$ 500 million in 2021. These investments are expected to increase to about US $ 3 billion in 2022.
The process of acquiring land for setting up the infrastructure required for the production, processing, and transportation of oil in the country continued and has progressed significantly by the end of 2021.
Many more Ugandans are now directly and indirectly employed in the country's oil and gas sector. Ugandans and Ugandan enterprises are also taking up the big and lucrative opportunities to provide goods and services.