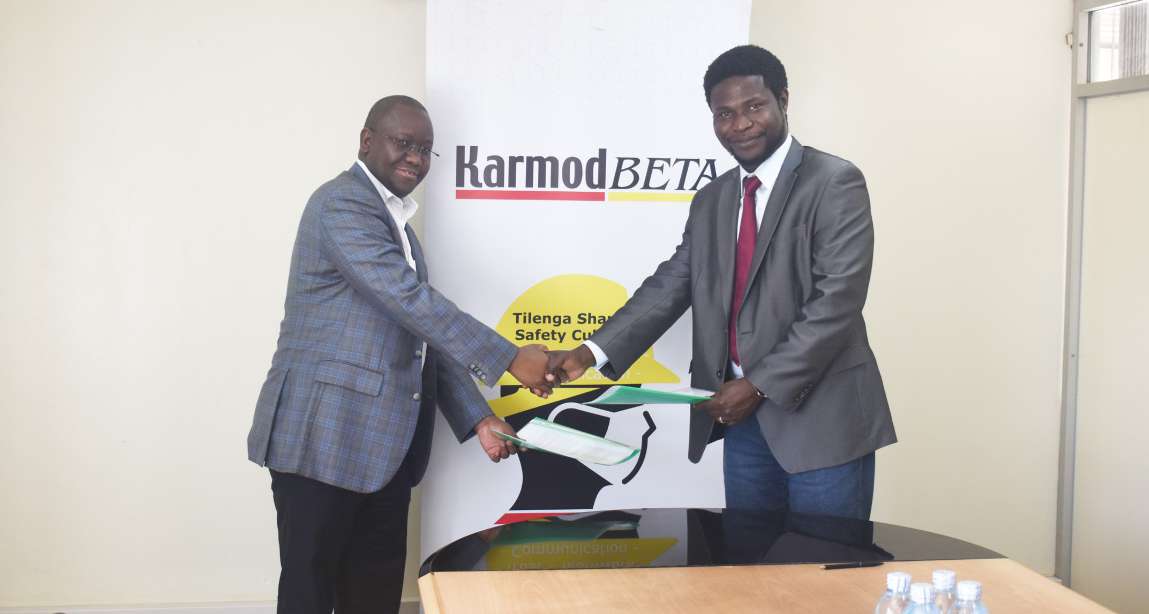 Joint Ventures: KarmodBETA's Journey to Becoming a Tier Two Contractor
Uganda's national content legislation requires that Ugandan entities be given priority in the sourcing of goods and services for oil activities. In instances where the goods and services are not available in Uganda, the requirement is that these are provided by a company that has entered a Joint Venture (JV) with a Ugandan company, prior to seeking approval for contracting a foreign entity.
The Barrel caught up with Mr. Nelson Mugenyi, the Managing Director KarmodBETA, a JV between BETA-JMG a Ugandan company and Karmod a Kenyan company. KarmodBETA was awarded a contract under the Tilenga Project to construct the four thousand (4,000) person Engineering Procurement and Construction (EPC) camp. He shared with us about how the company emerged to become one of the pioneering (FID), joint venture Tier two contractors, for the Tilenga Project, post- FID (Final Investment Decision) announcement
Q: Congratulations on becoming a Tier Two Contractor in Uganda's Oil and Gas sector.
 A: Thank you. It is an honor and a great opportunity.
Q: Speak to us about KarmodBETA's journey to participating in Uganda's oil and gas industry.
A: Karmod is involved in setting up prefabricated buildings for housing, worksite offices, schools and medical facilities. We already had a working relationship with Karmod to provide these services for other sectors in Uganda in 2018. As the oil and gas sector in Uganda progressed, more opportunities opened for our business. The great shift happened in early 2021, when Karmod Kenya picked interest in bidding for the tender to construct the four-thousand-person EPC camp for the Tilenga project. BETA-JMG was approached by Karmod Kenya to participate with them in the bid. It was clear that we needed to form a JV due to the local content requirement. The two companies then agreed to form a JV to bid for the project. The JV (KarmodBeta) was formed early 2021.
Q: As the Ugandan partner in a successful JV what is BETA-JMG's specific contribution and how long have you been in existence?
A: BETA-JMG is a Ugandan EPC Contractor. Our role on the Tilenga EPC camp construction project is to execute civil works, assembly of prefabricated cabins, organize the project logistics and project management.
Beta Projects Ltd has been in existence since 2006, before forming a JV with JMG Construction Company Ltd to participate in oil and gas activities. BETA-JMG JV Company Limited (BETA-JMG) was incorporated in 2018, and later formed the JV with Karmod in 2021. It has been seven (07) months since we mobilized to the site (November 2021) and the progress is commendable regardless of the unexpected challenges. We have also worked on other activities for the Kingfisher and Tilenga Projects prior to the EPC camp construction.
Q: What are the benefits of your involvement in Uganda's Oil and Gas sector, and the joint venture?
A: The benefits are enormous. Our involvement has enriched our company's governance structures, processes and systems and provided us with more experience handling cross-cutting aspects like ensuring human rights, gender equality, Health, and Safety aspects plus induction of our staff.
It has increased our capacity. We are now a tier two company working with a top tier 1 EPC company and this means we have been able to upscale our operations. We have had to recruit more staff, manage our supply chain, the human resource, and sub-contractors. This is great in terms of value addition.
Our staff have also benefited from skills and technology transfer through the numerous training opportunities. The skills acquired can be transferred to other sectors besides the oil and gas. Specifically, technology transfer is being achieved for prefabricated cabin assembly and fabrication. This technology, we hope, can be used to provide alternative housing at an affordable cost to many Ugandans.
As a corporate citizen, we have contributed to the general economy of Uganda by paying taxes. We have also been able to uplift the local economy in the host districts by procuring goods and services locally where available for example sand, aggregate, mineral water supplies, catering services at community level. We have sub-contracted at least fifteen (15) companies and over twenty (20) suppliers that are working for us, thus collectively pushing the local content agenda.
Q: How many people does the company employ?
A: KarmodBETA currently employs four hundred and fifty (450) personnel on the project, including our subcontractors. 97% of this workforce is Ugandan of which 35% are the from six Albertine district communities. We currently employ about 50 females in different operational roles in Health, Safety, Environment and plumbing among others. We are looking for additional ways to attract more females to bridge the gender gap which is generally synonymous with operational roles within the sector.
Q: What does the future look like for this joint venture?
The future is bright. We are looking at other projects once we have completed the current one, e.g., the East African Crude Oil Pipeline (EACOP) and the Refinery. We are also looking forward to handing over the camp which is a key milestone. We have plans to invest in local production of prefabricated cabins as a long-term strategy. Currently, we are importing them from the Karmod Factory in Turkey. This technology can also be utilized in low-cost housing for the benefit of the country.
Q: What are some of the challenges you have experienced while executing your work?
A: There are a few, but challenges provide an opportunity for growth. Take for example the logistical challenges that arise whenever there are issues such as strikes by the truck drivers at the Mombasa Port, this results in delays.
The increase in the price of fuel has also necessitated the need for more cash flows to mitigate this challenge. This and the ripple effects of the war in Ukraine and Russia have pushed the operating costs high.
A few hiccups within the banking and insurance sector can also pose a threat to the availability of funds.
The expectations from the communities where we work are very high. It is, therefore, important for us to establish a robust Corporate Social Responsibility (CSR) strategy. To this effect, we currently boosting the COVID-19 vaccination campaign and testing for Hepatis B for community members, as we solidify the plans to launch additional CSR actions within these communities
Q: What advice would you give a Ugandan company looking to chart the same path?
A: The work starts even before the JV prospects. There is need for a concerted effort to ensure that one's business is growing and healthy.
Ugandans need to partner with a Company that has similar aspirations and is in a similar space so that synergies can be created, and quality standards raised in seizing the massive opportunities that are presented by the oil and gas sector.
Ugandans must have something to offer in the joint venture, other than being just a local company. The JV entity should show real value addition being brought to the oil and gas sector with tangible economic benefits to the country.
Due diligence must be undertaken before they sign up with the foreign entity. The companies should be able to observe complete transparency in corporate governance, stated objectives and compliance matters, to avoid potential future disputes or failure in the partnership.
Ugandan companies must be fully aware of the existence of the local content law which is there for all Ugandans to benefit. Therefore, Ugandans should go out there and identify foreign entities that can add value to their businesses for a win-win position in terms of value retention, technology, and skills transfer.
In addition, the JV should not be looked at as a full stop, but one of the milestones to the company's longevity in the business.